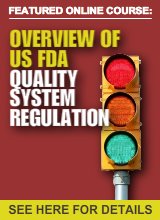 The World Medical Device Organization (WMDO) is a newly-established independent organization dedicated exclusively to the professional development and educational needs of medical device professionals from around the world. It provides an innovative means for medical device professionals to develop the knowledge, skills and expertise they need to achieve their highest level of professional competency.
WMDO offers a wide range of on-line courses on the subjects of regulatory compliance in different market jurisdictions, quality system requirements, and post-market requirements, to name just a few.
Among the courses available from WMDO, Dr. Maria Donawa, President of Donawa Lifescience Consulting, has contributed a course titled 'Overview of US FDA Quality System Regulation'.
For information on WMDO and the range of courses available, please click here, or for information on the course contributed by Dr. Donawa, click here.
The World Medical Device Organization (WMDO) is a newly-established independent organization dedicated exclusively to the professional development and educational needs of medical device professionals from around the world. It provides an innovative means for medical device professionals to develop the knowledge, skills and expertise they need to achieve their highest level of professional competency. WMDO…